Study – Design & Installation – Distribution Board (DB Panel)
Admin
Distribution doard is branch distribution, used to supply electricity for a system of machiner and component or one floor of building, apartment…DB panel used to set up behind MSB panel and front load consumption.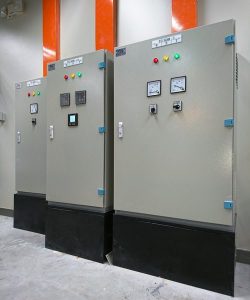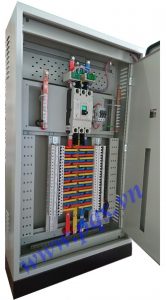 DB panel used to some projects as follow:
Tenement house and buildings
Hospital and schools
Factory and residential erea.
Technical characteristics:
Enclosure made by with steel, powder croating or Inox, tole 1.2-2.5mm.
Color: RAL 7032 7035
Max power: 800A, short circuit: 100kA
Numbers of poles: 3P 5W or 1P 3W
Frequency: 50Hz, working temperature: 0-50C
Rated current: 380/400/420Vac.
Rated insulation voltage: 690/1000 Vac
Self-standing panel or hanging wall.
MCCBs/MCBs are standing or horizontal.
Manufacturing standard: IEC 61439-1/2
Designing symbol standard: IEC 606 17
Protection standard: IEC 60529
Component standard: IEC 60947
Protection level: IP 2X, 3X, 4X, 5X.
Panel form: 1, 2A, 2B
Integrated protection for curent, voltage and phase.
Displaying information: V, I, F Cos, P, Q, S, THD…
Integrated monitoring, remote control through network communication.
For more details, please contact with Mr. Vinh: 0908 488 633/ 0969 553 557
 You can see our video on youtube with (Design guided by Hữu Vinh)