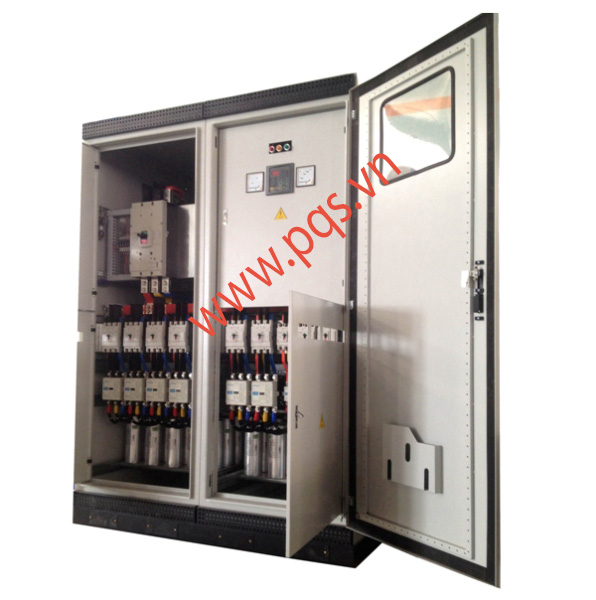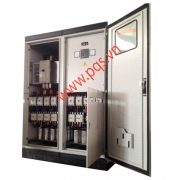 Description
APFC Panel is called as automatic power factor control panel . It is often set up with Main Switch Board Panel ( MSB Panel) or Low Power Panel. It can be set up individually, depend on its designing. Besides, it can directly set up in some location of consumption load.
APFC Panel is compensation again the losses of reactive power (Capacitor), is lost during transmission and distribution (Inductor).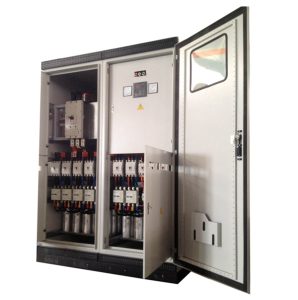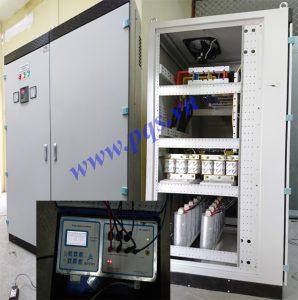 The purpose of  low voltage capacitor Panel:
About economy: Reduce the cost of electricity.( We don't pay fine for reactive power)
About technology: Reduce voltage drop, reduce power loss, reduce the size of wire and increase load capacity.
Compensation calculations:
Power factor: Pf = Cosθ = P(kW)/ S(kVA), tagθ = Q(kVAr)/ P(kW)
Compensation capacity: Qc (kVAr)= P(kW) x (tgθ2 – tgθ1)
Result: Qc (kVAr)= 0.4 x P(kW)
Calculate the net capacity after compensation
System operation: Un, fn
Capacitor parameter: Uc, fc, Qc
Result: Qc' = (fn/fc) x (Un/Uc)² x Qc
Calculation of  C/ K index:
 Parameters of step 1: Qc1
Transformer current ratio: In/ 5A= Ict
Result: C/K = Qc1/ Ict
Automatic Power Factor  Control panel often set up for:
 Factories and residential erea.
Tenements house and builldings.
Hotels and Restaurants
Hospitals and School
Technical characteristics:
 Enclosure made by with steel, powder croating, tole 1.2-2.5mm.
Colour: RAL 7032/ 7035
Power upto 1500kVAr
Number of Automatic steps: 2-14steps
Number of basic steps: 1/0
Designing standard or harmonic filter reactor
Automatic check with CT
Allowed to adjust with CK parameters, switch program, switch time for capacity steps.
Allowed to adjust with switch program ( Auto P1, P2…)
Setting up, protecting and displaying voltage, current, harmonics.
Number of poles: 3P 5W or 1P 3W
Frequency: 50Hz, working temperature: 0-50C
Rated current: 380/400/415/480/525/690Vac.
Rated insulation voltage: 690/1000 Vac
Manufacturing standard: IEC 61439-1/2
Designing symbol standard: IEC 606 17
Protection standard: IEC 60529
Component standard: IEC 60947
Protection level: IP 2X, 3X, 5X.
Panel form: 1, 2A, 2B, 3A, 3B
Integrated monitoring, remote control through network communication.
For more details, please contact with Mr. Vinh: 0908 488 633/ 0969 553 557
 You can see our video on youtube with (Design guided by Hữu Vinh):