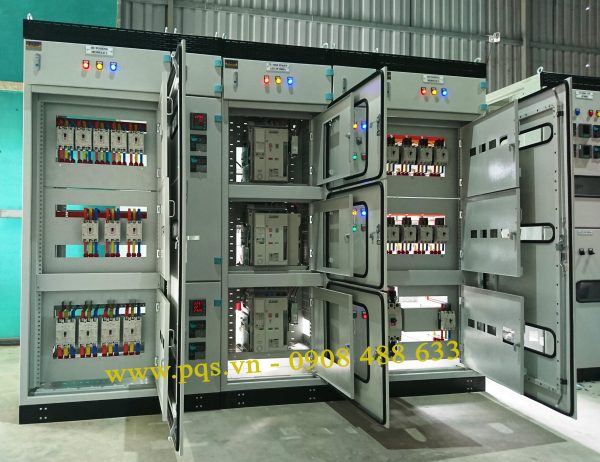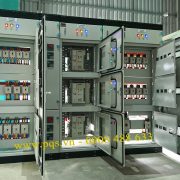 Automatic transfer switches (ATS)
Description
ATS Panel  is automatically transfers switch between main powers and spare powers, with purpose of maintain electric system is always ready in case main power is lost. Spare power can be generators, secondary transformers or UPS.
Opening ATS Panel can control upto from 3 to 4 power…. It can control switchgear for priority or non-priority load, it depents on requirement and purpose for its use. The most popular panel that we used is: 3 ACB, 3MCCB, 3 MC to control for priority or non-priority load with one main power and one spare power to supply power for it. That is ATS Coupling.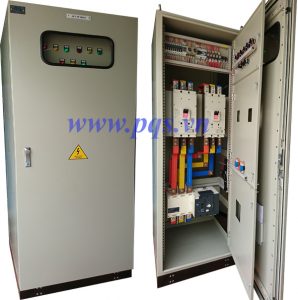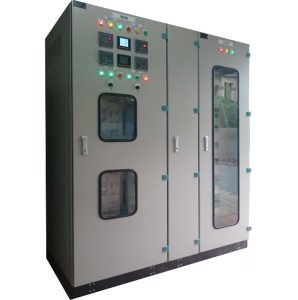 ATS Panel is very important for hospitals, comunication system, especially in military.
ATS Panel consist of forms:
Compact ATS Panel ( Compact)
ATS Panel used for ACB, MCCB.
ATS Panel used for Contactor.
Technical characteristics:
Enclosure made by with steel, powder croating, tole 1.5-2.5mm.
Power upto 6300A
Number of poles: 3P 5W or 1P 3W
Frequency: 50Hz, working temperature: 0-50C
Rated current: 380/400/420Vac.
Rated insulation voltage: 690/1000 Vac
Allowed to adjust starting or stopping time for generators.
Allowed to adjust transferring time between transformers and generators.
Allowed to adjust cooling and warming up time for generators.
Outgoing started by Impules/ Contactor.
Allowed to select Auto/ Man mode.
Manufacturing standard: IEC 61439-1/2
Design symbol standard: IEC 60617
Protection standard: IEC 60529
Component standard: IEC 60947
Protection level: IP 2X, 3X, 4X, 5X.
Panel form: 1, 2A, 2B, 3A, 3B, 4A, 4B.
Integrated protection for current, voltage and phase.
Displaying information: V, I, F Cos, P, Q, S, THD…
Integrated monitoring, remote control through network communication.
For more details, please contact with Mr. Vinh: 0908 488 633/ 0969 553 557
You can see our video on youtube with ( Design guided by Hữu Vinh):
https://www.youtube.com/watch?v=j85rmUmEcxM&t=55s